| Item ID | Starting Bid | Bids | Current Bid |
| --- | --- | --- | --- |
| 60557 | $20.00 | 3 | $30.00 |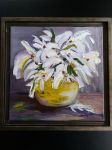 12x12 Acrylic on Canvas
About Sherry
I have been painting with different mediums for many years and now most of my work is on canvas using acrylic paint. I am so fortunate to live on the west coast, with such wonderful beaches and forests to find inspiration.
Portraits of children or aging folks especially are intriguing to me. Also, old cars, barns, etc. I try to be diversified to keep interest and creativity flowing.
I love to get lost in my painting and can paint for hours at a time, it is very meditative and satisfying. Fortunately, others appreciate my works and give them good homes on completion.
I belong to touch of art (a group of painters getting together every Monday to paint) we are having another art show in May at Tulista Art Center and hope to see you there!